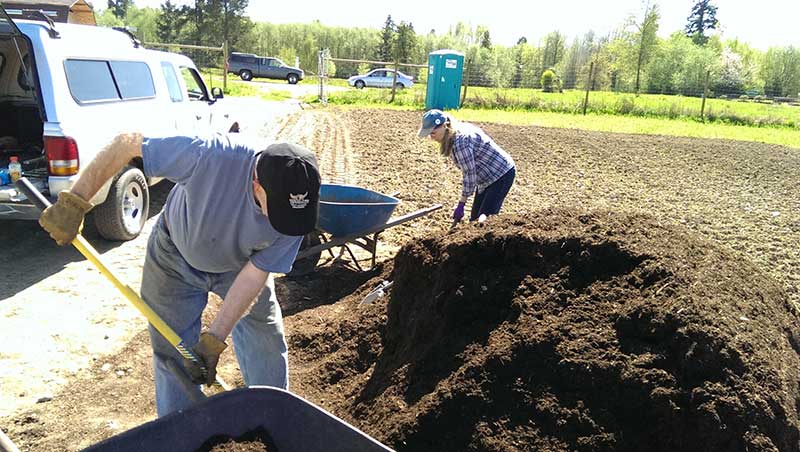 Vashon Community Compost Facility Study
The King County Solid Waste (KCSW)-funded Vashon Organic Recycling Facility Feasibility Study began this April 2020. The study will take about four months to complete. ZWV volunteers will be helping KCSW with community outreach and assisting the contractor, HDR, in compiling selected organics feedstock data.
At this point we are only looking at the feasibility, that is the potential, of locating a small scale, community compost facility on our island community. We know Vashon has an abundance of organic material that could be composted to build the soils in our farms and gardens. What's the best way to make this happen? The study will recognize and start to answer basic questions like:
What feedstocks are available to work with?
What is the volume and frequency of these available feedstocks?
If a compost facility is feasible, what size and services may be included?
What public/private partnerships could be taken advantage of in the shaping of what could happen?
What potential island sites are available, considering location, available infrastructure, and environmental mitigation?
Ballpark costs are usually provided as well, sometimes for different sized compost facilities possible.
The feasibility Study must recognize Island concerns and input. During this feasibility process there will be two main ways to participate:
There will be a King County Solid Waste Division website set up soon that encourages public comment/exchange.  We are expecting this website thread along with personal outreach will create a dialogue by which we address suggestions and concerns.
A public forum is planned for August/September (subject to Covid-19) to present the findings and receive people's comments.
Zero Waste Vashon's role, as the process moves forward, will be to represent and answer our community's concerns: ZWV and KCSWD will need community assistance and input to create a good working solution. In the meantime, for comments and questions, please visit the KCSWD information page linked below.
Vashon Island organics feasibility study – KCSWD
King County Feasibility Study Article