Biochar is a solid material obtained from the carbonization of biomass. Biochar may be added to soils with the intention to improve soil functions and to reduce emissions from biomass that would otherwise naturally degrade to greenhouse gases. The process creates a fine-grained, highly porous charcoal that helps soils retain nutrients and water. Biochar is a stable solid, rich in carbon and can endure in soil for thousands of years. When the biochar is buried in the ground as a soil enhancer, the system can become "carbon negative." The soil fertility benefits of biochar are a very high affinity of nutrients to biochar and other compounds (adsorption) and the extremely high persistence of biochar in the ground (stability). In addition to creating a soil enhancer, sustainable biochar practices can produce oil and gas byproducts that can be captured and used as fuel, providing clean, renewable energy. This is a prerequisite for making it carbon neutral. 

Biochar feedstock is usually wood 3" or more in diameter. The process of preparing feedstock does not include chipping (saving energy), and the feedstock is therefore not in direct competition with aerobic or anaerobic composting.
Traditionally biochar has been made by covering open stacks of burning wood to smolder the fire. The waste gases went up as smoke. Modern systems pyrolize the woody waste in a closed chamber. Gases and oils are collected for post-processing into biogas. Feedstocks for this system would come from large limb residential yard waste, commercial wood waste, and clean construction scrap lumber. Additionally the dry effluent from an anaerobic digester can be turned into biochar. As with any human system, it is how these processes are executed that can make the difference in it being beneficial or a liability.
How can biochar improve your farm and garden soils?
Biochar research shows that it has potential to help with some pressing problems facing modern societies. It touches on many levels from food production and agriculture to fuel and energy production to carbon sequestering. The system is scalable.  You can do this at home on a garden level and on large crops at the farm level.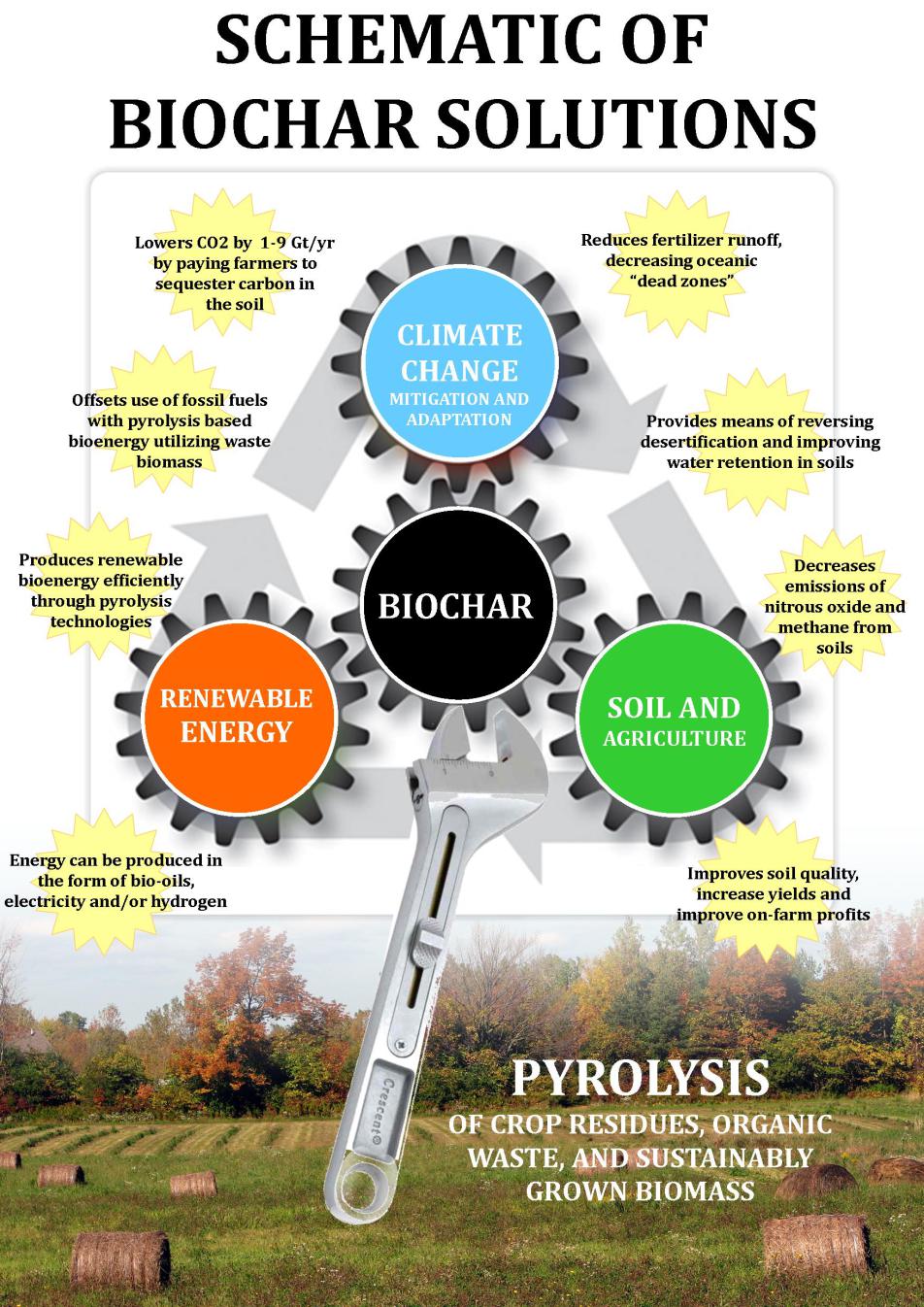 Here's a list of potential uses for biochar courtesy of Biochar Farms:
1. IMPROVED SOIL FERTILITY AND CROP YIELDS
2. LESS FERTILIZERS REQUIRED
3. IMPROVED WATER RETENTION, AERATION, AND TILTH
4. HIGHER CATION EXCHANGE CAPACITY, LESS NUTRIENT RUNOFF
5. CLEAN AND EFFICIENT BIOMASS ENERGY PRODUCTION
6. COMBINED HEAT, POWER, AND REFRIGERATION FROM PYROLYSIS
7. CARBON NEGATIVE PROCESS (SEQUESTERS CARBON FROM ATMOSPHERE)
8. GREATER ON-FARM PROFITABILITY
9. CAN ALLEVIATE POVERTY IN  THIRD-WORLD COUNTRIES
10. CAN BE FINANCED THROUGH CARBON MARKETS AND OFFSETS
11. LOW COST MEANS OF WATER PURIFICATION IN DEVELOPING COUNTRIES
12. DECREASED NITROUS OXIDE AND METHANE EMISSIONS FROM SOILS
13. POTENTIAL FOR LIQUID FUEL, ELECTRICITY AND/OR HYDROGEN PRODUCTION
14. REDUCED DEPENDENCE ON FOREIGN OIL
15. REVERSAL OF DESERTIFICATION ON MASSIVE SCALES
16. ALTERNATIVE TO SLASH-AND-BURN AGRICULTURAL
17. CAN WORK IN TANDEM WITH REFORESTATION/AFORESTATION EFFORTS
18. CAN PRODUCE ELECTRICITY, BIO-OIL, OR HYDROGEN FUEL SOURCES
19. CAN USE WIDE VARIETY OF FEEDSTOCK INCLUDING BIOMASS WASTE PRODUCTS