Zero Waste Vashon (ZWV) is a group of your neighbors working in partnership with King County to make our island a model green community by finding practical ways to recycle our waste stream into useful products. We are a 501 (c) 3 organization dedicated to reducing waste.
ZWV is partnering with King County for a ZERO WASTE future. We can have revitalized soils, cleaner water, cleaner air, and locally sourced energy.
Zero waste of resources is an idea that is catching on throughout the country. King County adopted a policy to work toward Zero Waste by 2030, meaning that materials of value, whether for reuse, resale, or recycling, won't be put in the garbage and end up in the landfill.
http://your.kingcounty.gov/solidwaste/garbage-recycling/zero-waste.asp
Studies done at the Cedar Hills Regional Landfill show that 75% of the "stuff" we throw away each year isn't really waste. The majority of these items could be recycled, composted, or reused. There are potentially 3,100 tons of organics available annually for composting on Vashon.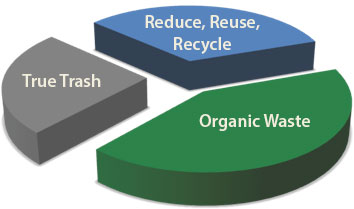 Why is Zero Waste important?
Our consumption and disposal practices have a cumulative impact on the health of the planet. In King County over 800,000 tons of garbage is handled each year. Keeping materials with reuse or recycling value out of the landfill allows room for "true" garbage and allows the landfill to function longer. Reaching for a Zero Waste of Resources future is the responsible thing to do in the face of limited natural resources, ever expanding population growth and economic potential with remanufacture.